On September 7, 2013 we went to the 2nd annual Brewfest on the Farm: A Day of Blues and Brews, produced by Penning's Farm, in Warwick, NY. This is our second year at the event and we noted the significant increase in turnout. The day was perfect for a beer tasting, with ideal end of summer weather. The backdrop, Penning's Farm, set in their beer garden, just below their apple orchards, could not have been more fitting to hold a festive gathering.
The main attraction of the event was the chance to sample a large number of craft beers, both domestic and local, from microbreweries from as nearby as Rushing Duck Brewing Co. in Chester, NY and others as far off as Sierra Nevada from California. Approximately 20 breweries participated in all, from which we tried dozens of IPA's, lagers, ales, porterhouses and specialty brews while tasting the interesting variety of flavors that make up beers and learning about some of the unique processes that go into beer making. For the breweries that were in attendance, click here and visit their websites.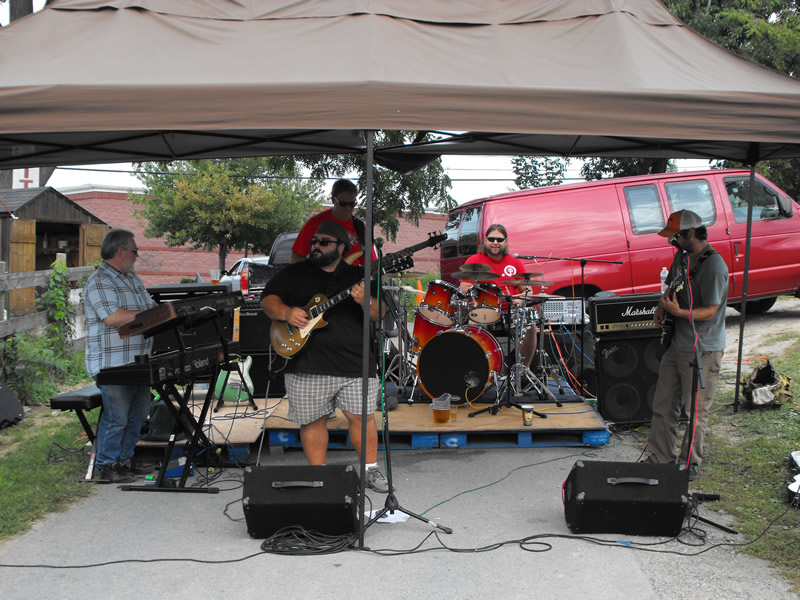 To complement the beer tasting, we were also treated to an afternoon of blues and tunes of the Grateful Dead by Uncle Shoehorn, and The Bendy Effect who played a variety of styles, including a couple of interesting psychedelic pieces.
There was mingling and socializing, people who came to share their passions for beer and have a great time. There was plenty of delicious food to eat, catered by Chumley's BBQ from Florida, NY, their fare including sumptious ribs, tender chicken, fresh corn, tasty coleslaw and their signature sweet and hot barbeque sauces.
One other highlight of our afternoon was a tour of their hops field, given by Steven Pennings, Jr., where he took us on top of a hill beyond their apple orchards overlooking the Warwick Valley. For us, it was an eye opening experience to see this luscious and aromatic harvest of hops for the first time and to witness the significant role that Penning's is playing to cultivate and revive a part of Warwick's agricultural history.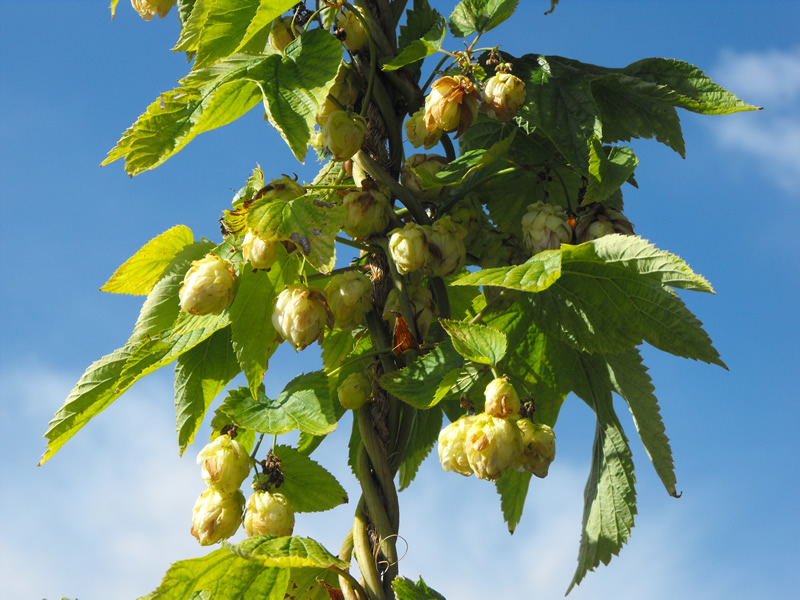 Now offering their dried hops to beer companies like Rushing Duck to use as a staple ingredient in their beer, and for distribution by home brewing and winemaking supplier Mistucky Creek, located just down the road on Rt. 94, Penning's is feeding into a paradigm that puts not only buying local at front and center, but pioneering conditions for creating more sustainable economies through local partnerships. Their entrepreneurial efforts have helped define the Penning's success story as they continue to reinvent themselves.
Brewfest is one of many that Penning's produces year round building on what's good about local culture. Outside of yearly events such as this, Pennings offers and promotes a wide variety of activities to keep the community and beyond coming back for more in ways of fun and entertainment. At Pennings you can enjoy live music every weekend, weekly trivia night and car shows, an outdoor beer garden and an indoor pub featuring local wines, beers and ciders, delicious food to order, local produce, organic meats and homegrown products, a petting zoo, a garden center and more.
As the apple picking season heats up in the next several weeks and crowds flock to Warwick's apple picking destinations, you can be sure that Penning's will be firing on all cylinders, spreading their magic touch to visitors that will be eagerly coming through their open doors and out into their lush orchards.