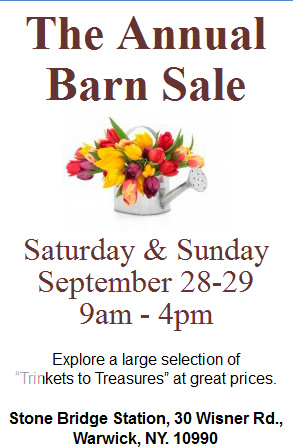 Members of the Warwick Valley Gardeners are busy scouring their homes and garden sheds for items for their annual Barn Sale. For the second year, the sale will be held at Stone Bridge Station, 30 Wisner Rd, Warwick, NY on Sept. 28 &29, 9:00 am to 4:00pm. There will be a large variety of items including furniture, home goods, books, tools and many other treasures. We ask that you do not come early.
This is the third and final fund raiser for 2013. The proceeds go to support the nine gardens that the club funds and maintains throughout the village and town as well as the award winning Garden Therapy program at Mt. Alverno, the Arbor Day Program, Holiday Project and the Scholarship Fund.
For more information about the sale and the club, please go to www.warwickvalleygardeners.com or visit us on Facebook. New members are always welcome.