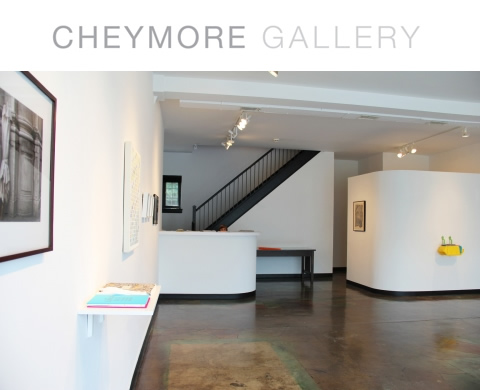 If acquainted with NYC Chelsea galleries, one may feel right at home at the "progressive" Cheymore Gallery, located in Tuxedo Park, NY. With its open spaced and uncluttered interior, pristine feel, white walls and high ceilings, it's a new art gallery featuring emerging, mid-career, and established contemporary artists on the cutting edge of art. Perhaps that's what art ought to be about, but some artists simply fall outside the mainstream like they do at Cheymore. Don't expect pretty landscapes without some kind of conceptual underpinning. The gallery is coming off of a two month Summer Group Show featuring the works of 8 artists from various parts of the East Coast. On Oct. 20th, 2012 it will showcase the ukiyo-e woodcuts of Yasu Shibata.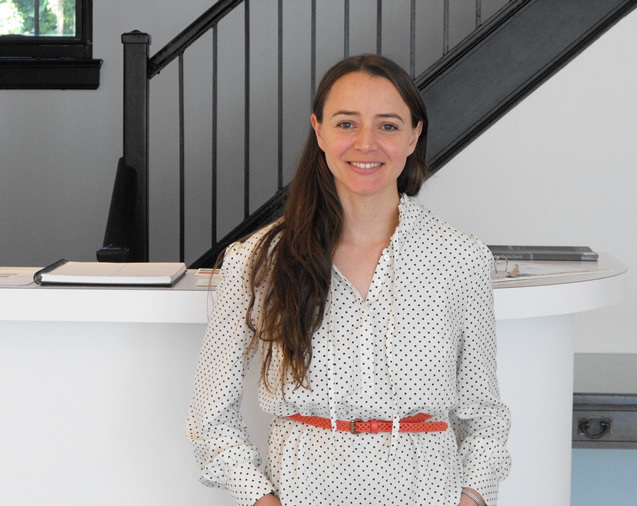 The gallery is owned by the charming, smart and contemplative Mae Shore, who is well acquainted with Tuxedo and has been part of the community her entire life. Opening Cheymore's doors in September, 2011, Mae brings her unique sensibility and artistic vision to the gallery, forming an important link to the greater arts and cultural community outside our region. In addition to the eclectic mix of artists currently found in the summer group show, she has featured the photography of Stephen Zeifman, an artist from Newfoundland and the prints of Jim Dine and Chuck Close.
Mae's background and interest as a printer shapes the current offerings of art at Cheymore due to years working at the fine art print publisher Pace Editions with many notable artists such as American pop artist Jim Dine. "I printed with Jim for over 10 years through Pace. So we've collaborated on numerous projects. One of the projects is a print called "The Venus Dances" – Jim does a lot of woodcuts and etchings. It's been an invaluable experience working with one of the greats of our times."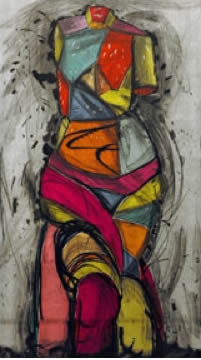 Residing in NYC for the last 13 years, Mae brings her experience and a long list of contacts to Cheymore. In the upcoming exhibition featuring ukiyo-e woodcuts by Yasu Shibata, she says, "I have particular interest in prints. Shibata does a very unique type of printmaking called 'ukiyo-e'. Losely translated, it means "floating world." It is a traditional Japanese type of woodblock printing using water based pigments. The color is applied with a brush and printed by hand with a barren from the block. His work is beautiful."
Who are some of the award winning artists she is presenting? One is William Villalongo, whose work exposing women in natural landscapes caught my eye for their fine composition and intriguing concept, undercutting stereotypic imagery of women characterized by the media.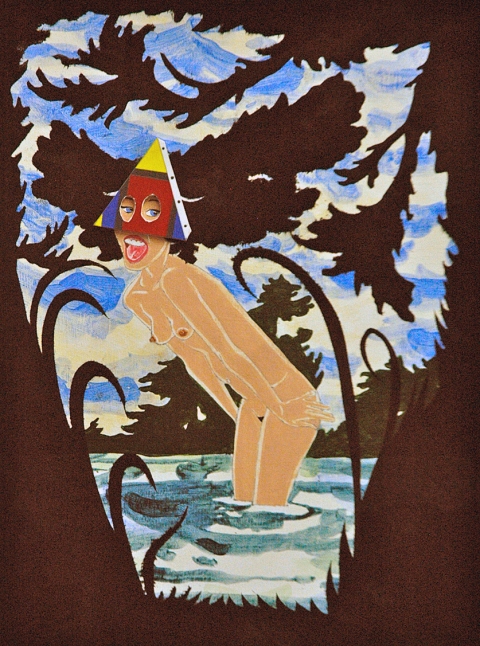 According to Mae, "He is a really interesting artist referencing art history in a playful way, lifting stereotypes and iconic imagery, which makes his pieces rich." Villalongo states, "My goal is to orchestrate a conversation between history and art which could give us the progressive discussions of the future." For some of us viewing art, having that discussion is the point, as we are challenged to think and verbalize the possible meanings of art.
The work of Ruth Lingen, a veteran printmaker, also caught my eye. According to Mae, "Ruth is an amazing collaborater, working with so many people and creating works that could never exist without her collaboration; she is one of the best in the world. She does projects that no one else does. She takes a lot of risks." In one work she collaborates with Jim Dine and famed chef Mario Batali revealing a unique hand bound letter press and linocut cookbook, in which only 100 copies were produced. Dedicated to the lunch box fund, the proceeds from the book were donated to feeding school children in NYC. Batali contributed the recipes while Dine produced the linocut prints of vegetables with Lingen serving to put the book together.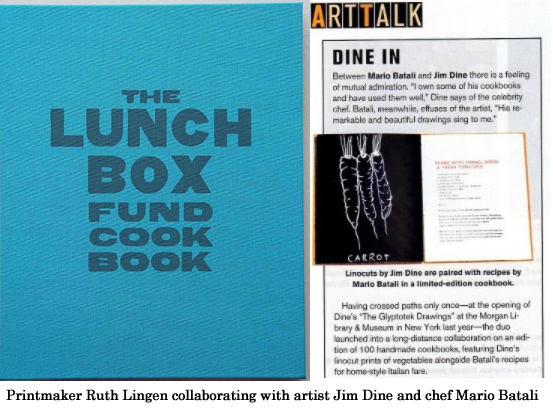 In a world where art galleries are shrinking during a time when funds allocated to support the arts have declined, we are lucky and most fortunate to have Cheymore Gallery as an important artistic and cultural space in our community, where we can continue to explore and learn about art and artists in our own backyard. We are looking forward to returning to Cheymore on October 20, from 2 to 5 pm for the opening of ukiyo-e woodcuts featuring Yasu Shibata.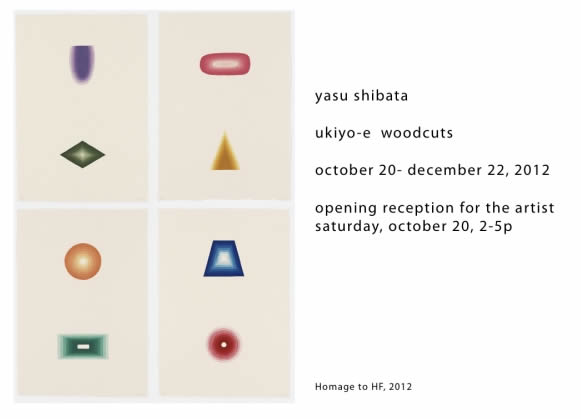 For more information about Cheymore Gallery, visit their website at www.cheymoregallery.com