Featured Music - Our Moon Plays, lyrics by Steve Calitri/music by Mike Corbin
FEATURING
Details

Written by

George L. Nitti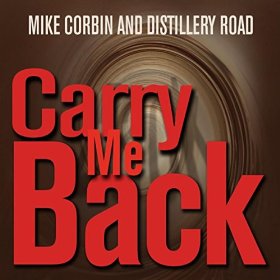 In late spring of 2015, Mike Corbin and Steve Calitri finished recording their 2nd CD together. Entitled Carry Me Back, the compilation of songs is a blend of diverse music styles with broad ranging, tightly written lyrics that resonate with a poet's vision.
Calitri said, "The title song "Carry Me Back" was inspired by the latest Beach Boy song, "That's Why God Made the Radio." Though "Carry Me Back" musically has no relation, it's first line is, "Carry Me Back to those Radio Days." The narrative of the song hits on today's Facebook phenomenon, with old high school lovers reaching back through time.
Read more: Music Collaboration: The Impostor and the Real Deal
Details
Warwick, NY – January 14, 2016 - Pennings Farm and Rushing Duck Brewing Company reveal that the art of accessorizing is no longer for fashionistas only, but for foodies too. The experience of thoughtful food and craft beer pairings will be offered on February 3, 2016 at 7:00pm at the Rushing Duck Beer Dinner in the Grill & Pub at Pennings Farm in Warwick, NY.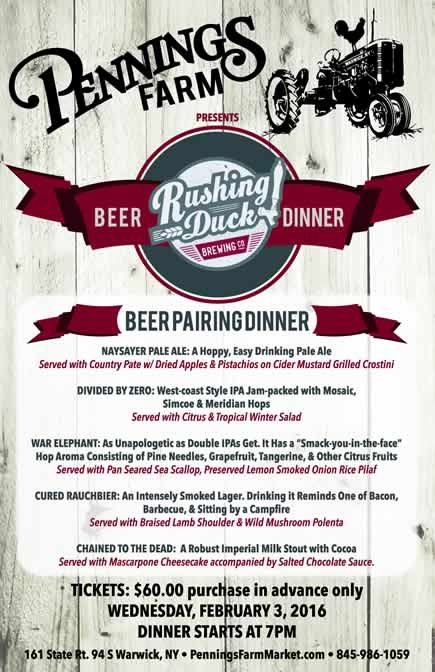 Read more: Pennings Farm and Rushing Duck Brewing Company Coordinate A Well Matched Dinner Ensemble
Details

Written by

George L. Nitti with Kerryl Ann Ebneter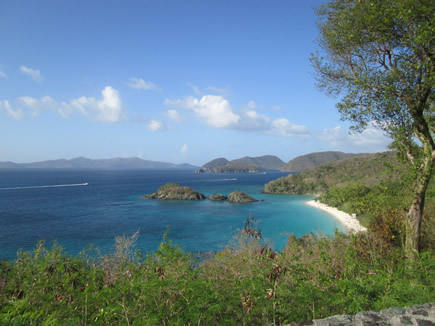 In mid-August of 2015, Kerryl and I made the leap to work and live in St. John, Virgin Islands. It may be no surprise to you that one of the most alluring features of our move was to escape the cold weather and snow. After both growing up in New Jersey, living in New York and retreating to Maine, we decided we had enough of snow and ice.
Last year, as our swan song, we spent a Valley Forge winter in Maine, where we counted fifteen snow storms (this tally came about putting together our snow plow bills). Around Christmas, both of us had cabin fever, suffered from lack of exercise, were sunlight deprived and, having become so batty, were singing, dancing and (fighting) to a Hawaiian Christmas song, "Mele Kalikimaka," at home and on Emden Pond, a nearby lake.
Details

Written by

George L. Nitti with Kerryl Ann Ebneter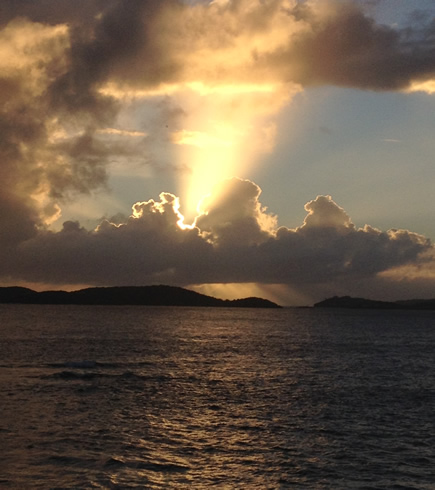 Dear Diary,
I'm feeling a little uninspired. Can you help?
Sure, I can help. What is your problem today? Please write it down.
Well, there is so much I want out of life. I feel I'm falling short. I often feel I'm not good enough. Can you tell me why I feel this way?
That's a very good question. As your guide, I can help. First, you should know that your feelings are normal. They are nothing to be ashamed of. We all experience symptoms of malaise from time to time. Death of a loved one. Financial challenges. Relationship woes. Childhood traumas. The list goes on. Just be easier on yourself. Start with that. Especially on New Year's Day when the race ahead seems daunting and the journey behind a little less than what you had hoped.
Read more: New Year's Day, 2016: Journaling to Divine Guidance