This Week Featuring:
Published: February 28, 2014
By George L. Nitti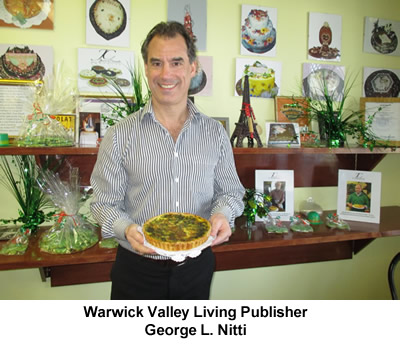 Last weekend, I had my photo taken with quiche in hand at Jean-Claude's Bakery, becoming a new member of a fraternity of men who have received similar laurels. For those unaware, there has been a campaign over the last year at Jean-Claude's to use locally recognizable "real men," who love Jean-Claude's quiche, to bring more awareness to this delicious open ended French pastry with its filling of egg, cheese, meat, or vegetables.
The concept of the campaign was conceived and designed by Creative Vision, a local boutique marketing agency owned by Inez Freund and Eileen Patterson. They said, "While customers were very familiar with Jean-Claude's desserts, they were less familiar with his savory offerings; in particular, his fabulous quiche, which is why we decided to launch this campaign."
Amongst the honoree's are Warwick Mayor Michael Newhard, Town Supervisor Michael Sweeton, Peck's Wines and Spirits proprietor William Iurato, Frazzleberrie's Jerry Schlicting, Chosun Taekwondo's Master Doug Cook, Hudson Valley Jazz Festival producer and founder Steve Rubin, Seely & Durland owner Garrett Durland, the Style Counsel's Bob Maxwell and Tim Mullally, and many others.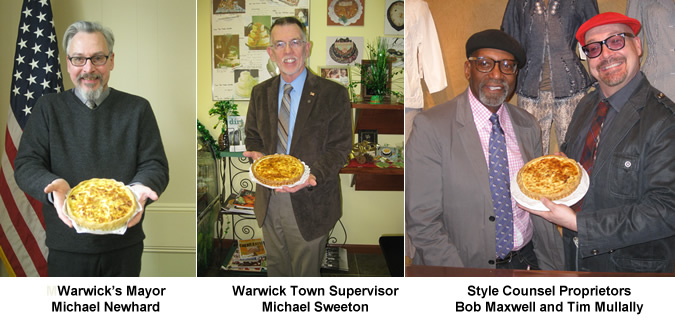 I had met with Annette Sanchez, wife of Jean-Claude and owner of the establishment, to discuss other matters when the subject of the quiche came up. "Eileen invited me to have my picture taken some time back with one of your quiches" I said sheepishly, "but we missed each other. Would it still be possible to have my picture taken?" I said. Annette was amenable to the idea, but a date was never set.
After our meeting, I went to Radio Shack, a couple of doors down from Jean-Claude's, to buy batteries for my camera. Over the last year, I had dumped what seemed hundreds of dollars to purchase double AA's and as I plopped down 11 dollars to buy 4 more packages, it suddenly seemed a waste of money. From a nearby shelf, I grabbed a hand sized camera, a small Canon Powershot that fit easily into my pocket and came with a battery charger. I said to the manager, "May I take a few pictures first before I make a decision. I need to make sure this camera takes good pictures."
Before long, I made my way to Jean-Claude's with the borrowed camera, looking for pastries and cakes to photograph, when Annette surprised me and handed me a quiche. "Let me take your picture," she said, reaching out for the camera. "Stand in front of that display just left of the Eiffel tower." The display also contained many photos of Jean-Claude's beautiful cakes, packages of daintily wrapped sugared cookies and the framed pictures of esteemed Warwick men each holding a quiche.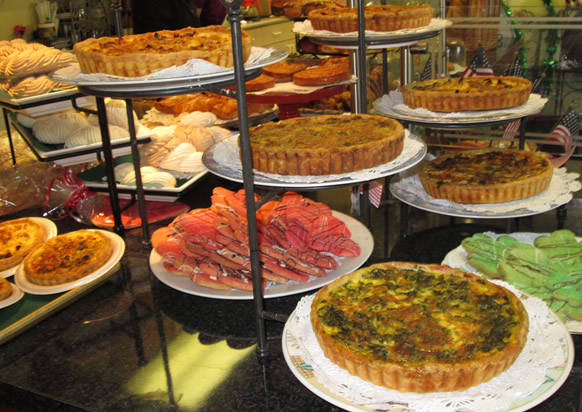 "Smile," she said, pointing the camera in my direction.
Mustering a large expression, I held the quiche tight, and the flash went off.
"Perfect," she said.
Thus, I was formally quiched.
Epilogue:
The Quiche Campaign has been hugely successful with Annette commenting that they "can't keep enough quiche in the shop; it sells out so quickly!"
And now it's not just Warwick Valley men who are getting in on the fun – women love Jean-Claude's quiche, too! So we can expect to see quiche lovers of both genders singing the praises of Jean-Claude's quiche!
Published: March 7, 2014
By George L. Nitti with Kerryl Ann Ebneter
Last week, we received an email from a subscriber requesting they be removed from all mailings. They provided us with their explanation, which we are publishing along with our response.
Dear Warwick Valley Living:
I will not support any private enterprise which promotes smoking, consider yourselves dumped with strong advice for others to stay-away from Warwick Valley Living, i will be speaking directly to all your current advertisers in the future to explain the other options available outside of your website & news forum, it was a poor choice to send today's newsletter as you did, i hope The Depo­t paid you well, for in the long run it is going to cost you big both in your image & your followers, so-long FOREVER!
Dear Unsubscribed:
We are very sorry that you are leaving us "FOREVER." That indeed is a very long time! I see you've been receiving our publication for some time and have never complained ­in the past about our editorial or advertising. Thus, we are surprised, shocked, and even saddened to learn of this most recent development. It came hard upon us, but we are slowly recovering and have finally gotten back on our feet after a week of self-examination.
You should be aware that we pride ourselves on the content of our publication. We believe Warwick Valley Living provides a great service in terms of informing the community about events, promoting groundbreaking stories of notable local interest and of late, adding an online shopping component to our list of monumental achievements. But we try not to take ourselves too seriously, like our competition, the New York Times. When we get a 'thank you' from somebody who loves or appreciates a story, we are very grateful.
Our advertisers represent a diverse set of businesses, which also, by the way, include those that promote healthy living. Personally Kerryl and I subscribe to a healthier lifestyle, drinking rather than smoking, so we understand your feelings about tobacco. Due to ethical reasons, I'm sure you don't visit CVS and other stores which sell cigarettes, and refrain from using places such as gas stations and convenience stores for the same reason. That might cause some problems for you in terms of transportation, but we understand. When it comes to sticking to one's principles, you should be firm.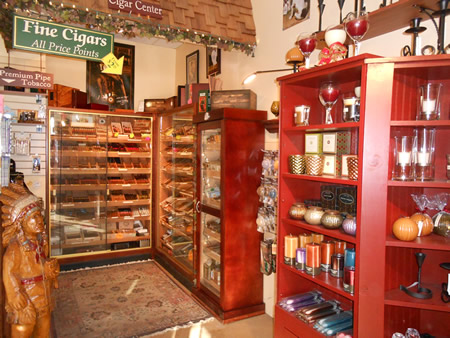 In defense of The Depot Cigar and Candle, located in Monroe, I'd like to say that it is a central hub where you can purchase Short Line tickets, quality candles, e-cigarettes and novelties, as well as cigars. Personally, my favorite reason for visiting is to kvetch with owner Jerry Fincke, who openly shares his views about Monroe politics, his knowledge of top-rated cigars (he has over a hundred brands), and his good humor on everything, helping us all pass the day more quickly.
His wife is a tireless advocate against cigarettes, who counsels customers to switch to e-cigs or quit entirely. Their newsletter is even worth a smoke (I'm sorry to mention that), because once you start to inhale it, you begin to laugh and feel better about yourself and life.
It is worth noting that he and his wife Cecelia have transformed a once run-down enterprise into a friendly, quaint, and warm environment. Recently their two dogs won first prize for best dressed (as participants in a pirate dog wedding) in the Monroe dog parade.
Again we are sorry you took offense at our last newsletter. We take pride in our advertisers and the promotion that we provide. By the way, we did observe some anger in your tone. You should be aware that anger can be as toxic as tobacco and as hazardous to your health.
Wishing you the best, forevermore,
George L. Nitti
Publisher, Warwick Valley Living
Warwick Valley Living Shopping Plaza