This Week Featuring:
Published: December 18, 2013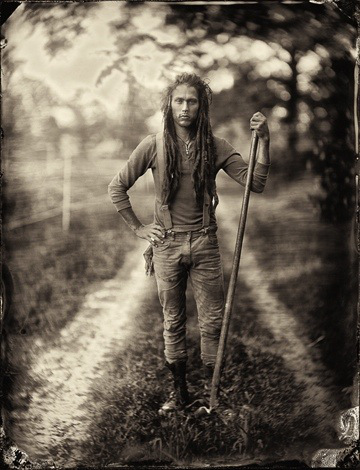 On January 10th thru February 2nd, bau Gallery presents Francesco Mastalia's ORGANIC, a photo documentary featuring over 100 farmers and chefs of the Hudson Valley.
This is the first exhibition of this new, large body of work by Mastalia. ORGANIC spotlights the Hudson Valley as a region at the forefront of this movement. It features the dedicated farmers who are committed to growing and producing food using sustainable methods, and the chefs who echo their beliefs and pay homage to the food they produce.
The portraits of the farmers and chefs were photographed using the wet plate collodion process, a technique developed in the mid-19th century, when the art of photography was in its infancy. The amber toned images remind us of a time when the cultivation of land was a manual process that linked the farmer directly to the soil. To date, Mastalia has logged in more than 17,000 driving miles within the Hudson Valley on his photographic Odyssey and has photographed 136 of our regions important farmers and chefs. Bau will feature 36 of these magnificent works from the ORGANIC series.
Published: December 17, 2013
WARWICK – Twenty-two members of the Chosun Taekwondo Academy Leadership Team, along with directors Cheryl Crouchen, Pam Pyke and Nadine Desiderio recently collected over $3000 in donations for the Warwick Lions Club. Funds were used to purchase dozens of toys and clothing items which were then gift-wrapped by team members and distributed to local-area, underprivileged children and their families during the annual Lions Club Holiday Party held on December 14th at the Warwick Reformed Church.
The Chosun Leadership Team, along with Lions Club coordinator Claire Gabelmann and Lions Club members decorated the facility in preparation for the festivities. Gabelmann, chairperson for the holiday project stated, "The Chosun Team and their directors were nothing short of amazing. They were well organized in their fundraising efforts and while shopping for children in need. We were thoroughly impressed by their abilities and enthusiasm. Without a doubt, the project could not have been a success without the help of the Chosun Leadership Team."