Details

Written by George L. Nitti and Kerryl Ann Ebneter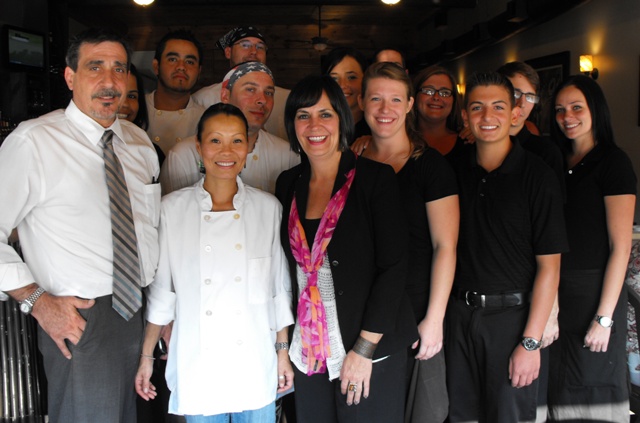 For those who remember The Velvet Monkey in Monroe, you may be pleased to discover a new restaurant in its place called Fusion Café and Wine Bar. Offering a diverse selection of unique and eclectic food, Fusion has received many rave reviews, as it fuses classic American cuisine with Asian influence and other fun contemporary twists. The restaurant has a cozy, modern feel giving off a city vibe with a lively bar.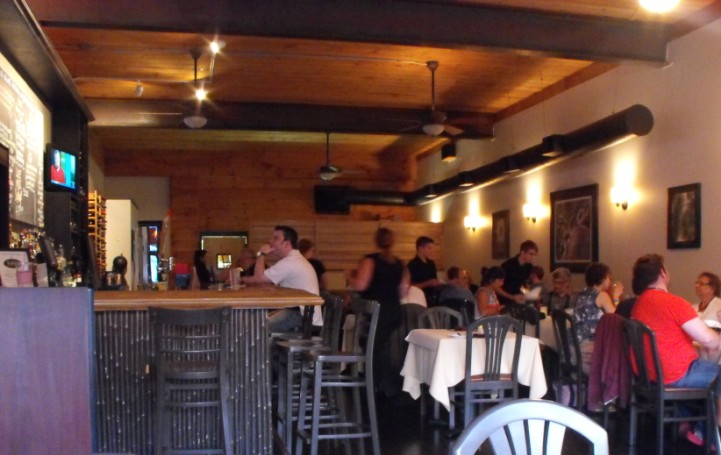 Several key ingredients are responsible for the success of Fusion. One is chef and proprietor Kathleen Egan, who has had a passion for cooking since her childhood and loves people to enjoy her food. She brings a blend of experience in the restaurant trade, honed skills as a chef and a unique culinary vision.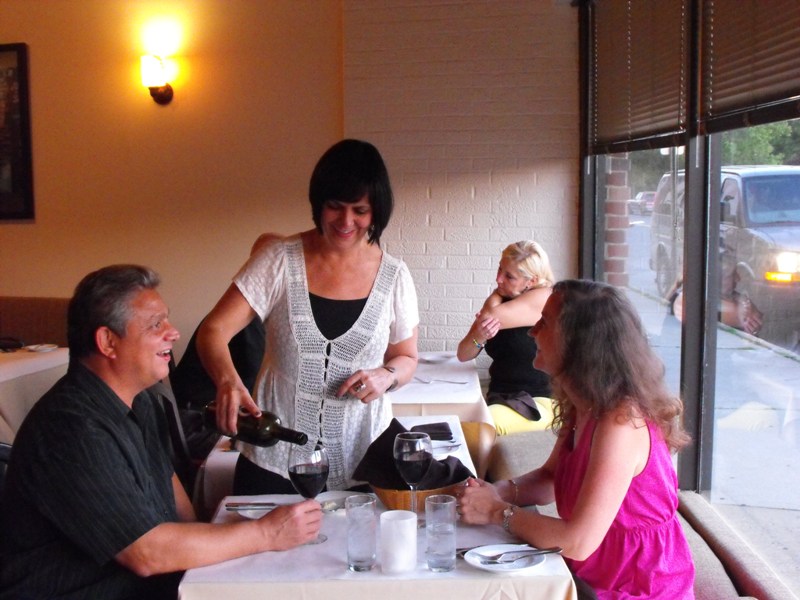 To complement Kathy's culinary gifts is Colleen Scollin, the professional, courteous and seasoned floor manager and host with over 20 years of experience. Running a tight ship with tender gloves, she imparts a standard of exemplary service, watching over customers to make sure that they are satisfied with their experience. She has a talent for making you feel as if you are part of her family, assembling a fresh, eager and sweet young staff of waiters and waitresses who are trained to do the same.
We happened to be seated next to Monroe mayor and his wife, Jim and Debbie Purcell, and soon struck up a pleasant conversation about the village and its downtown revitalization efforts and other key events happening in Monroe, like its yearly cheese festival in September. Our conversation complemented the fine food that rolled out of the kitchen and onto the tables, as we noted that dishes were artistically plated, such as one of their specials of the evening, a combination of swordfish and sea bass that was topped with sundried tomatoes and goat cheese.
If language can do justice to your taste buds, Fusion's innovative menu and unique specials will have your mouth watering. Take the oven roasted french chicken breast with gorgonzola truffle risotto and veg du jour with madeira glaze. Or the dinner special, a duo of grilled rib eye and mango glazed scallops with sweet and sour braised cabbage and butternut squash risotto. Suffice it to say that you will find the descriptions delectable.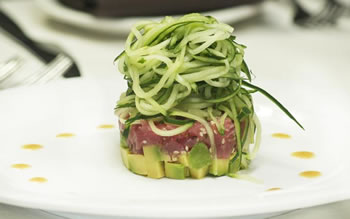 We did have a hard time deciding what to eat because of the splendid choices, first deliberating upon the Golden Calamari with zesty seasonings and a tropical fruit dipping sauce and the spicy pulled Buffalo Chicken Nachos, with its mixture of braised chicken, sour cream and jalapeno peppers served with tri-colore chips. However, Kerryl and I decided on the lighter tuna tartar, which was fresh, tasty and melt in your mouth and oysters on the half shell, which were accompanied by 3 dipping sauces – a red cocktail, a creamy chipotle and a sherry vinaigrette minetto. We followed that with a light arugula salad with shaved parmesan and red onions mixed in a rich balsamic vinaigrette.
For our main entrée, Kerryl had the Veal Chop Porterhouse with peppercorn and sundried tomatoes with a sweet and sour sauce served with mashed potatoes while I had that delicious dinner special, the duo of grilled ribeye and mango glazed scallops. We both truly enjoyed our meal, which we accompanied with one of their lovely cabernets by the glass. To top off our dinner, we shared their signature dessert, the popular and exquisitely presented praline chocolate mousse bomb. Oh my God - for dessert and non-dessert lovers it was to die for, a must have.
Fusion is appropriately named, not just for the wonderfully blended cuisine but also because of the synergy between Chef Kathy, Colleen and their staff. You can taste all of their love in the food.
---
Fusion is located at 46 Millpond Parkway, adjacent to Lake St. in the village of Monroe. They are open Tuesday thru Sunday, serving lunch Tuesday thru Friday and dinner Tuesday thru Sunday.
Make sure to make reservation on weekends. For more information visit their website at http://www.fusionmonroe.com/