Details

Written by George L. Nitti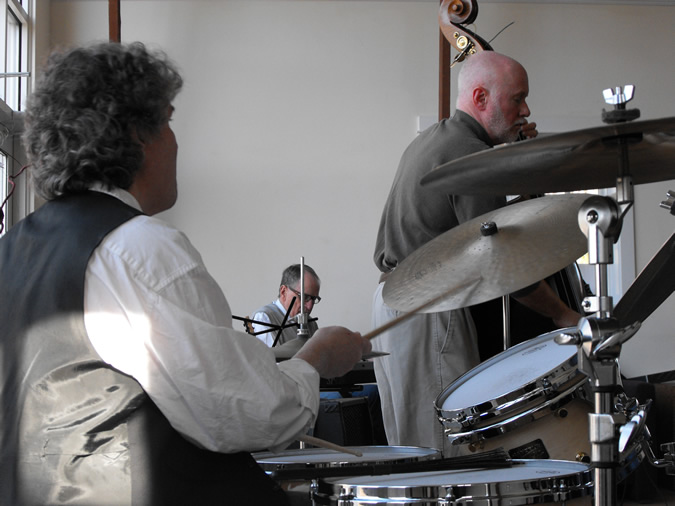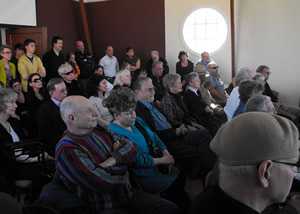 There is a buzz in the air as momentum is building once again for another exciting Hudson Valley Jazz Festival to be held August 8th – 11th . Last weekend the organization held a fundraiser at the Seligmann Center for the Arts, hosted by The Orange County Arts Council with a large audience turning out to enjoy a performance featuring area jazz musicians.Steve Rubin, festival founder and producer said, "It's fantastic to not only hear these great players, but the great vibe is what makes this community."
Now entering its 4th season, the festival continues to improve and grow. Rubin works tirelessly throughout the year to galvanize musicians, build relationships with new and existing venues, promote jazz performers and make additions to the festival. Behind all of that is his fierce drive to market to a larger audience outside the area with an outcome of promoting tourism on the local scene.
At the heart of the festival are the participating players that reside in and around the area. Jeff Ciampa, Richard Kimball, Mike Jackson, Andrew Ezrin, Dave Smith, Rick Savage, Gabriele and Joe Tranchina, Chris Persad and Bob Rosen represent a small handful of musicians who perform regularly and who will be participating in this year's event. "The goal remains to highlight local talent while expanding the local sphere, alongside some highly successful musicians in the context of a festival," says Rubin.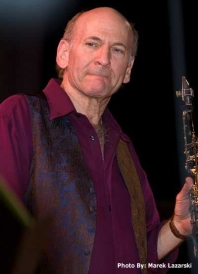 In the past Rubin with the tremendous support of participating venues has had notable names like Arturo O'Farrill, Bill Evans, Todd Williams and Bobby Sanabria .This year's festival will highlight two distinguished names from the wider Jazz Community: Dave Liebman and John Abercrombie. Liebman's career has spanned over four decades, beginning in the early '70s, when he performed and recorded in the groups of drummer Elvin Jones and Miles Davis. Since then, the prolific Liebman has lead his own groups featuring many great musicians and has consistently been rated as one of the top Soprano Saxophone players in the world.
Guitarist John Abercrombie has a career spanning more than 40 years and nearly 50 albums, establishing himself as one the masters of jazz guitar. Favoring unusual sounds and nontraditional ensembles, Abercrombie is a restless experimenter, working firmly in the jazz tradition while pushing the boundaries of meter and harmony.
The HVJF is also offering a week of jazz education, which will be directed by veteran musician and music educator, Bob Rosen. "The model for this summer's workshop is a time-honored one that works," says Rosen. "It works for both the Western European classical tradition and for the historically more recent American jazz tradition."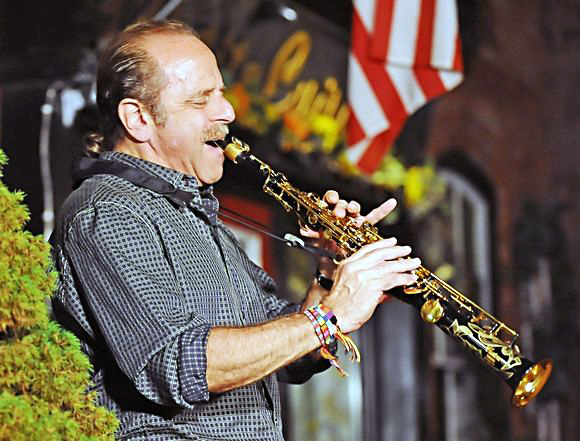 The program will offer a curriculum of instrumental instruction coupled with performance ensemble rehearsal with an emphasis on jazz improvisation. At the end of the week the students will integrate what they have learned in performance with professional jazz musicians participating at the venues.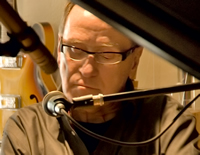 The Hudson Valley Jazz Festival will honor pianist and composer Richard Kimball with its Lifetime Achievement Award. Kimball's long tenure in the music business, his body of work and all that he has done in the community of Warwick for over 30+ years will be recognized.
Although we are only in the month of April, you can bet that there will be more developments in motion. Like any good improvisation within a structured format, what makes this festival special is its constantly evolving nature towards an electrifying conclusion.
Save the date, the festival is Aug 8 - 11. Additional information, and developing schedule at hudsonvalleyjazzfest.org
Details

Written by George L. Nitti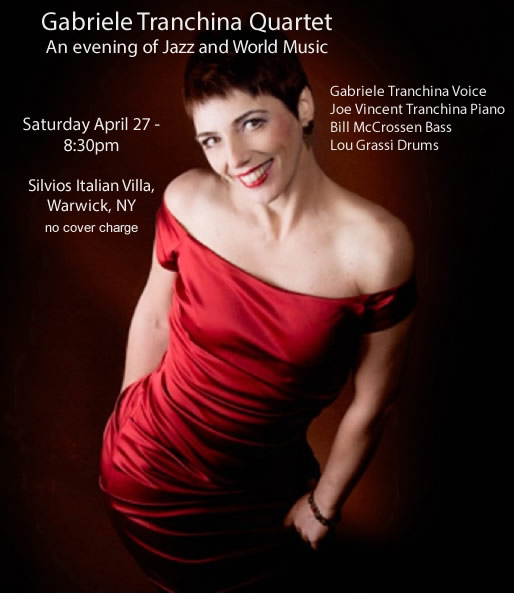 On Saturday, April 27, internationally acclaimed vocalist Gabriele Tranchina and her quartet will perform an exciting evening of Jazz and World Music at Silvio's Italian Villa. Bringing a worldview of music as a force for wholeness, a source of unity and energy for all, the event will be a night for all to celebrate, enjoy and appreciate.
In her latest CD "A Song of Love's Color," Tranchina ventures to cross the bridge through music, drawing from the world's beauty and versatility. Songs from the album, in addition to a repertoire of music from Brazilian, Afro-Caribbean, World, Jazz and European Art Songs will be presented.
Top New York musicians will also be on hand to accompany Tranchina. Her husband, pianist Joe Vincent Tranchina, has performed in most major jazz clubs in NYC and has a large body of work ranging in style and composition. Considered one of the top pianists on today's music scene and voted Hudson Valley's 2010 Jazz Musician of the Year in a Times Herald-Record readers poll, his acclaimed compositions from "A Song of Love's Color" along with Gabriele's unique interpretations and vocal dynamics will hold audiences rapt with delight.
Also accompanying Tranchina will be Bassist Bill McCrossen, who plays out frequently as does drummer Lou Grassi. "These musicians have been on the music scene forever," says Tranchina. "They are seasoned professionals at the top of their game."
For more information about the show call (845) 987-1500. Silvio's Italian Villa is located at 274 New York 94 South in Warwick, NY 10990.