The 2nd Annual Sunday with Sinatra Brunch hosted by Pennings Farm Market offers a farm-style dining experience that fills your mind, body and soul with signature dishes prepared by Executive Chef Heather Kurosz and classic Frank Sinatra favorites performed by The Russ Kassoff Trio accompanied by Terry Blaine on vocals. This afternoon of entrée-tainment allows guests to dine on made-from-scratch dishes from a specialty brunch menu while swooning over a taste of the voice and personality that is Frank Sinatra.Reservations are required with the $10 cover.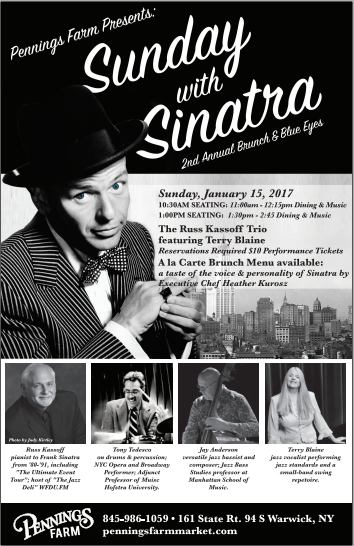 The Russ Kassof Trio with Terry Blaine
Russ Kassoff-piano
Jay Anderson-bass
Tony Tedesco-drums
Terry Blaine-vocals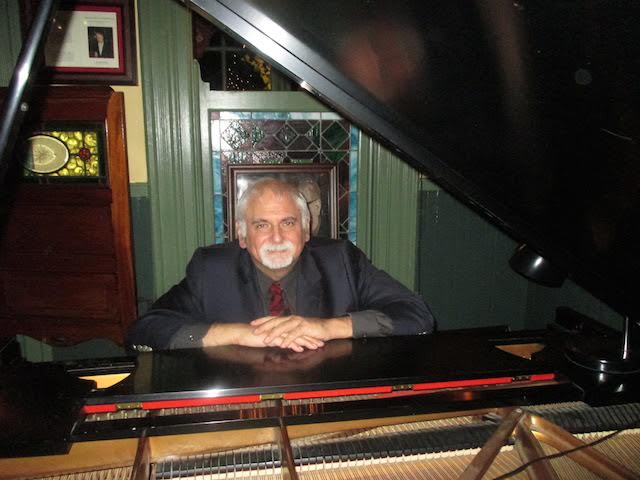 Kassoff has made music a lifetime career, boasting exceptional accomplishments including the eleven year tour he had with Sinatra as his pianist, serving as MD/Conductor for Twyla Tharp's Broadway production of "Come Fly Away," and as Music Director to Rita Moreno; accompanied Liza Minelli, Dean Martin, Sammy Davis Jr., Carly Simon and even Luciano Pavarotti in a career of concerts; and can be heard on "The Jazz Deli", the WFDU-FM Saturday morning jazz program he hosts. Drummer for the trio, Tony Tedesco, brings a long history of recording and performing experience with a diverse mix of artists from Peggy Lee to Vic Damone, worked on jingles and performed for a long line-up of Broadway productions and the New York City Opera. Considered one of the most versatile and respected jazz artists performing today, Jay Anderson rounds out the trio on bass. Anderson can be heard as a featured jazz bassist on more than 300 recordings, five of which have received Grammy Awards. Eliciting fond memories of days-gone-by with her gentle and swinging spirit, lead vocalist, Terry Blaine, provides listeners with a unique interpretation of classic jazz standards. Blaine manifests a presence that only genuine affection can inspire. Her long-running vocal history includes live performances, recordings, studio work, television and radio shows, songwriting, production, education and music therapy.
Sunday with Sinatra Brunch Menu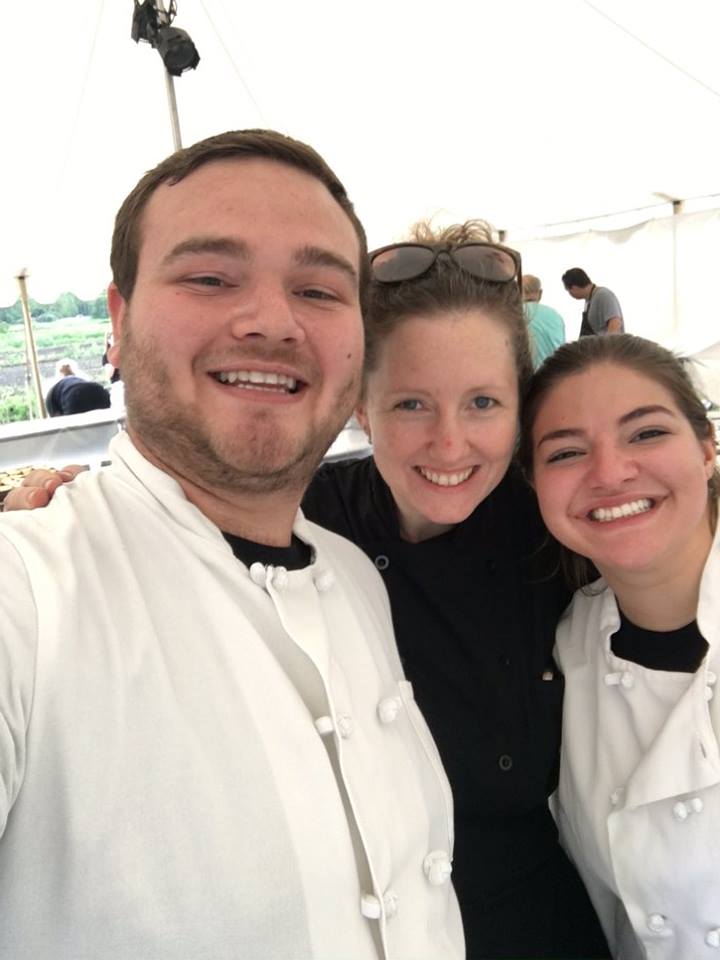 Guests should expect an encore presentation at the 2nd annual Sunday with Sinatra Brunch. Executive Chef Heather Kurosz took artistic license last year when preparing a signature menu done 'Her Way.' This year's menu is sure to fly you to the moon with another unexpected line-up of breakfast favorites. Guests will feel comforted by the traditional garden omelets, pancakes, farm-raised sides of bacon and sausage and an embellished brunch-style version of Pennings local grass-fed burger, and can also tempt their palates with a taste of Kurosz's creative signature brunch dishes. A classic cocktail menu will be available including a Champagne Cocktail, Fresh Squeezed Orange Juice, coffee and tea. A specialty cocktail menu eliciting the mood of Sinatra's musical era will be available featuring unexpected recipes including hard cider and seasonal sangria.
Seating for Sunday with Sinatra is as follows:
10:30am Seating
11:00am - 12:15pm

Dining & Music
1:00pm Seating
1:30pm - 2:45pm

Dining & Music
Approximately 4-8 guests seated per table.