Author Gretchen Gibbs celebrates the launch of Anne of the Fens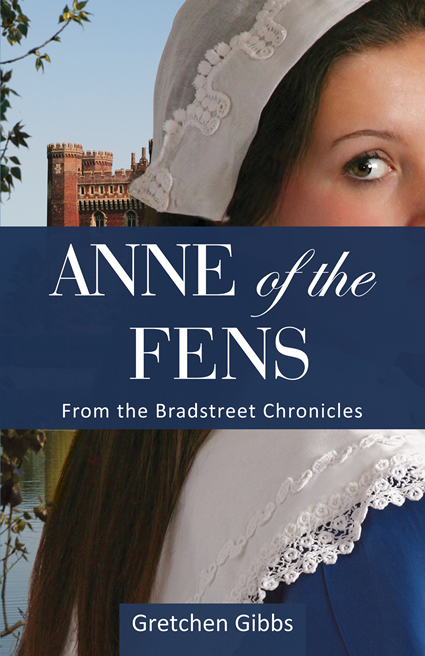 On Thursday, May 21 at 6:30 pm, at Albert Wisner Library in Warwick, NY, author Gretchen Gibbs launches Anne of the Fens, a fictionalized YA historical novel based on written records. Second in The Bradstreet Chronicles (Glenmere Press), it tells the story of Gibbs' ancestor, the girl who would grow up to become America's first published poet, Anne Bradstreet.
In the novel, set in 1628 when England was torn by religious conflict, fifteen-year old Anne helps a young fugitive escape from Tattershall Castle through the watery fens. Pursued by the sheriff and his men, who regard her Puritan family as traitors to the king, Anne risks more than her reputation as the daughter of the earl's steward. In a period when men and women were hanged or burned alive for their religious beliefs, she also risks death.
"The passion for her predecessor in life and letters is clear in Gibbs' novel," says Jenny Maloney, reviewer for Macmillan's criminalelement.com. "Gibbs does a lovely job setting the tone of the piece early on. The language is formal—rather like Witch of Blackbird Pond in tone and Puritanical subject matter (though with more romantic underpinnings)—and evokes the historical sense of the day. In the opening sequence of the novel, Anne is chasing her young sister, Sarah, through a fair that neither girl is supposed to be attending. Sarah's run away from church and it's fallen to Anne to bring her back. Gibbs' uses this section to introduce Anne as a girl with more than a passing interest in men and the Bard himself, Shakespeare."
Gretchen Gibbs attended Brandeis and received her doctorate in clinical psychology from Harvard. She taught and was an administrator at Fairleigh Dickinson for many years, and she practiced and did research in psychology. Writing poetry and memoir led to short story publication, and her interest in family history inspired novels about the turbulent lives of her ancestors. She lives in a small town in New York and is an avid tennis player. Find her online at www.gretchengibbs.com.
Anne of the Fens is available worldwide at online retailers in trade paperback (US $9.95) and ebook (US $5.99). Published April 30, 2015 by Glenmere Press. Distributed by Ingram Book Company.