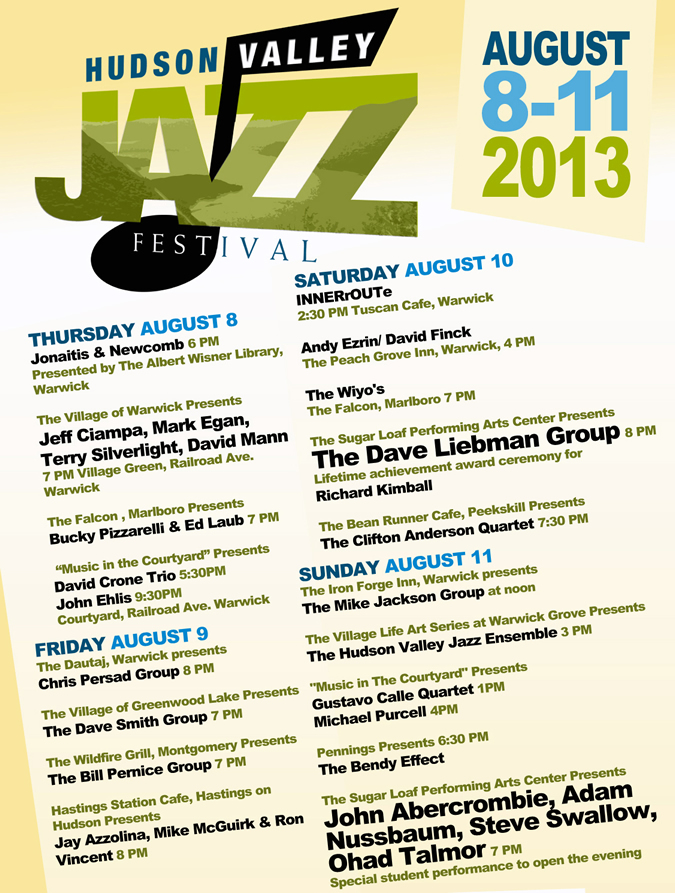 Aug 8 -11 marks the fourth year of The Hudson Valley Jazz Festival. Local players with the gift and history in the music represent 5 towns in the area alongside jazz legends. Mike Jackson in Warwick, Bill Pernice of Monroe, Chris Persad of Greenwood Lake and Bill McCrossen of Washingtonville are on the same billing as NEA Award recipient and former Miles Davis and Elvin Jones alumni, Dave Leibman. Adam Nussbaum and John Abercrombie also from the immediate region are on board for this 20 concert - 4 day happening.
Bucky Pizzarelli, Mark Egan are some other familiar artists. But it's the locals, that's what it's all about. They're all worthy of mention and respect. Duo's, improve , funk, fusion, classic , and modern provide a broad choice for listeners to enjoy in a variety of settings. Outdoor on a lake and a town central, a library, bar, restaurant the festival's home base at The Sugar Loaf Performing Arts Center set you up for a concert .
This season includes the greatest number of local participants in line with the festival goal which is to highlight the local talent and help define The Hudson Valley as a destination for jazz and live music.